Rolled Pastry Familia
Category:bakery ( Точени кори )
Packing:1issue.
The rolled pastries, which the brand launched on the market, are traditional Bulgarian product. With a pastries made by home-made recipe from the time of our grandmothers and mothers, the brand offers the best alternative to the modern housewives. The rolled pastries are extremely high-quality and allow consumers to cook without difficulty the so loved from them homemade patties.

Enjoy a traditional Bulgarian cuisine and taste a real patty from rolled pastry "For the whole family."
Method of payment
There are several ways in which you can pay for your online order:

1.You can pay cash when you receive your order.
2. You can use online banking/ bank transfer, but the money should be received by us before our team starts preparing your order and it goes out for delivery.
3. You can pay through PayPal.
supply of goods
There is minimum amount you should spend on our website if you want to make an order:

Your order should be minimum 55 Euros for the territory of Brussels and minimum
85 Euros for any other area on the territory of Belgium.

The delivery charge for the territory of Brussels is 5.99 € per order.
The delivery charge in the Brussels area is 10.99 € per order.
Guarantee for quality and taste
Please contact us - give us your name, order number and also attach photo of the problematic product. Our team is going to contact you back with a solution to the problem and the best possible compensation.
User Rating
Express Your impression of the product reflecting it by assessing five point scale and share your experience and personal opinion with other protebiteli site:

Similar products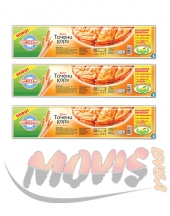 Rolled Pastry Bella
€ 1.70
---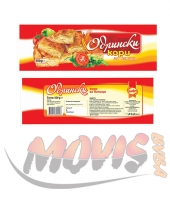 Adrianople Frozen Pastry Rolls
€ 1.90
---